Event Details
One Step Coaching - Mary Ellen Waltemire
Date:
May 16, 2014, 8:00am – 10:00am
Organizer:
Location:

WHERE: SpringHill Suites - 17280 Valley Mall Road
Hagerstown, MD

TIME: 8:00-8:30 Registration & Breakfast
8:30-9:30 Program



Price:

$15.00 MEMBERS $20.00 Non Members (Guests or individuals who have not paid 2014 dues)

Event Type:
iCal link
One fifth of professionals in the country are working and taking care of both their children as well as older family members. The sandwich generation is getting worn down by the demands on their time and lack of resilience to separate work/life domains. This interactive session will identify stressors associated with being part of the growing sandwich generation. Through appreciative inquiry and group discussion, participants will discover possible strategies for managing this challenging time in their lives and better plan their personal time.
About our presenter:
Mary Ellen Waltemire is a life and leadership coach, certified recently by Institute for Professional Excellence in Coaching (iPEC) and ACC certified by ICF. She encourages individuals to focus on the present as they make purposeful choices for a more satisfying future. She brings a wealth of professional and personal experiences to this exciting career and is passionate about partnering energetically with individuals and organizations that want and choose to make significant and positive changes in their lives. Through engaged collaboration, she empowers others to live, work and play more fully and effectively. Additionally, she is a recognized master practitioner in the Energy Leadership Index (ELI); an attitudinal assessment based on an energy/action model. This assessment measures one's level of energy based on attitude, or perception and perspective of your world. After taking the ELI and through coaching, she assists individuals in identifying ways to move their energy from catabolic (negative) to anabolic (positive) levels. Most recently she became certified as a Personify Leadership trainer, which emphasizes eight core body-focused competencies for "wanna be" and current mid-level and top leaders.
Ms. Waltemire has a B.S. degree from Shepherd University, a M.A. from Hood College and an MBA degree from Frostburg University. Her interests include working with individuals and organizations who want to be and do more ~ to experience a more fulfilled and exciting life. She works as a facilitator for businesses and non-profit organizations with creative thinking/ strategic planning, board development, team building and leadership training.
Giving to the community is evidenced by her volunteer efforts including being an active board member for ICF ( International Coaching Federation) - Maryland Chapter, Friends of Safe Place- Washington County's Child Advocacy Center, Washington County Commission for Women, Washington County Agricultural Education Center and Maryland Agriculture Education Foundation. She volunteers for American Camp Association as a Standards Instructor, Accreditation Visitor and Education Endorsement Program Committee member. She enjoys opportunities to work with individuals and programs of Leadership Washington County as an alumnus, and as part of her church and other community events.
On a personal note, she is married to Chuck and together, they have two lovely and accomplished daughters, two grandsons and one granddaughter.
Contact information:
Mary Ellen Waltemire, Life & Leadership Coach, ACC
cell phone: 30.991.4142; home phone: 301.739.0997
e-mail: maryellen@onestepclosercoaching.com
---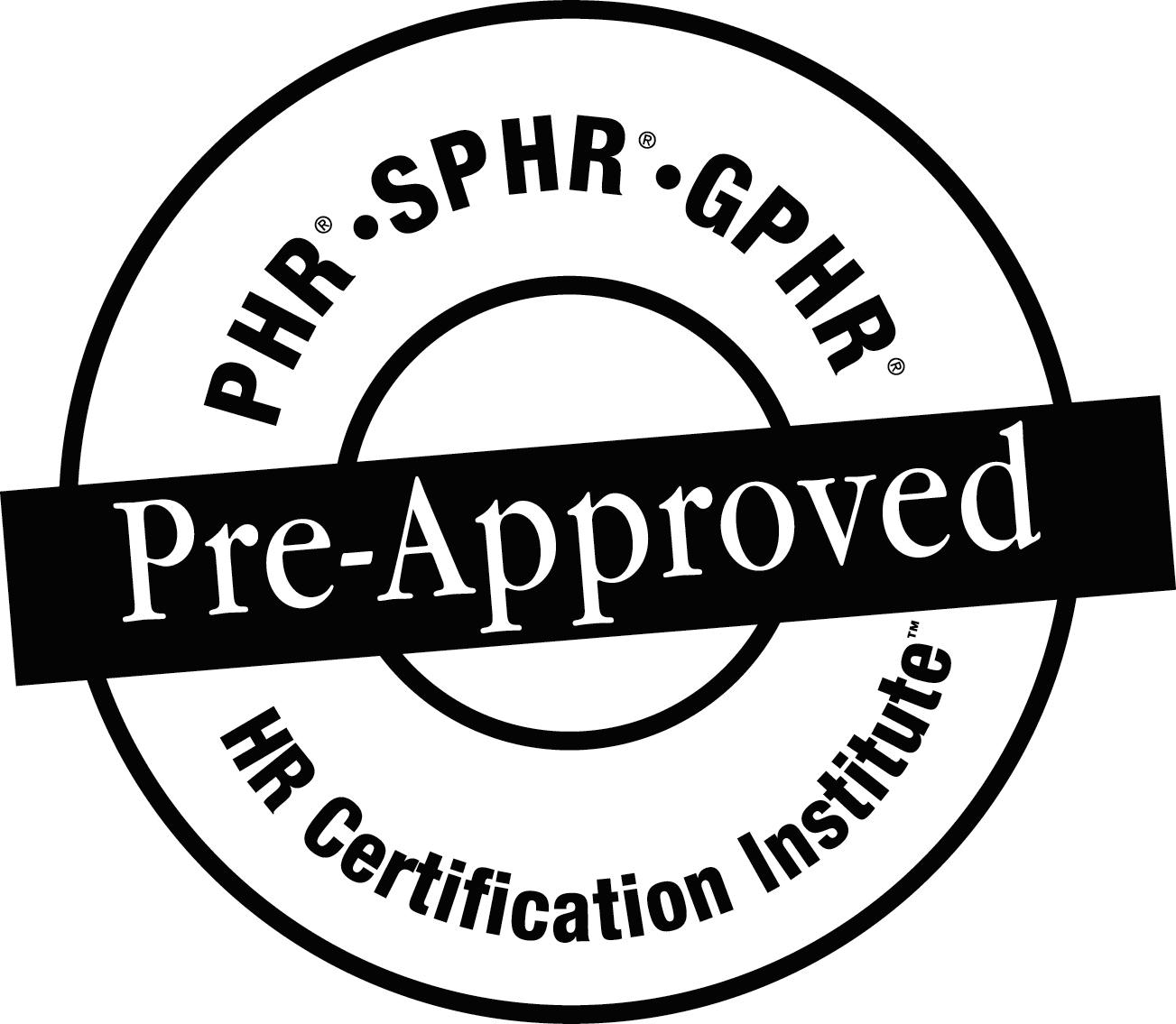 This meeting is PENDING recertification credits toward PHR, SPHR, and GPHR recertification through the HR Certification Institute.
The use of this seal is not an endorsement by the HR Certification Institute of the quality of the activity. It means that this activity has met the HR Certification Institute's criteria to be pre-approved for recertification credit.
---
Be sure to complete the online survey to obtain the program number for the HRCI credit.
Please notify Beth Kennedy of your attendance at bkennedy@callos.com no later than noon on Thursday, May 15 2014.
Members who do not reserve by the due date will be charged the non-member rate of $20.00 at the door!
Interested in becoming a member - click here for more information
*Meeting Dates are subject to change